If you're looking to purchase John Fowles first editions or related items, you've come to the right place! I have the largest inventory of Fowles items for sale in the world, including first editions (many signed) of the novels and non-fiction, along with limited editions, ephemera, rarities, and even books from his personal library. Just click on the category at the left to peruse the books for sale.
IF YOU HAVE QUESTIONS ABOUT ANY OF THE ITEMS FOR SALE OR ARE READY TO BUY, PLEASE CALL ME AT (916) 928-1285 OR E-MAIL ME AT [email protected] — I'll be happy to assist you in building a Fowles collection or would love to just talk about Fowles and his work (one of my favorite things to do!). If you're new to collecting Fowles or books in general and aren't sure where to start, need to buy a special gift for a Fowles fan, etc., please give me a call and let me help.
See my photo below, along with a photo of the Firsts Magazine John Fowles issue featuring my article "Collecting John Fowles." You can read the article by clicking here.
SPECIAL OFFER: With any purchase of $75 or more, receive a free mint hardbound 1st U.S. edition of John Fowles' 1998 collection of essays Wormholes.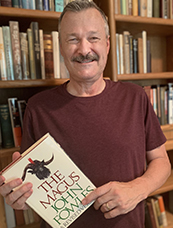 BOB GOOSMANN, OWNER
MAGUS BOOKS OF SACRAMENTO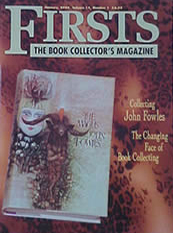 FIRSTS MAGAZINE
JOHN FOWLES ISSUE