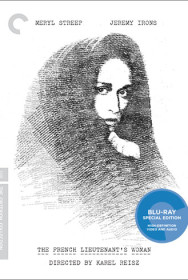 The film version of The French Lieutenant's Woman is now available in Region A (North America format) and Region B (Europe/Australia format) Blu-ray high-definition.  Even more exciting, it has been released by The Criterion Collection, which produces classic films in editions of the highest technical quality and featuring outstanding supplemental features. This disc definitely lives up to Criterion's high standards. The French Lieutenant's Woman was originally released in theaters in 1981, starring two relatively young actors–Meryl Streep and Jeremy Irons–who would of course go on to become multiple Oscar winners and cinematic superstars.  The screenplay was written by Nobel Laureate Harold Pinter, and the film was directed by highly-respected New Wave trailblazer Karel Reisz.
Pinter solved the problem of adapting John Fowles' marvelously inventive multi-layered novel, which told the story of a Victorian-era romance from the perspective of a 1960s novelist, by presenting parallel narratives.  The first is the Victorian era romance–being filmed–and the second is a modern-day love affair between the two primary actors in the movie.  The result was an acclaimed film that was nominated for five Academy Awards.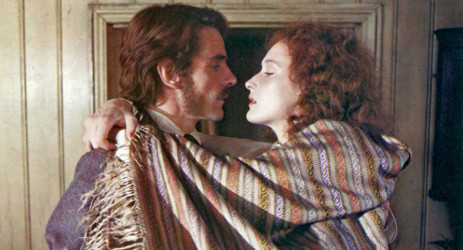 Among the highlights of this release:
New 2K digital restoration, with uncompressed monaural soundtrack on the Blu-ray
New interviews with actors Jeremy Irons and Meryl Streep, editor John Bloom and composer Carl Davis
New interview with film scholar Ian Christie
Episode of The South Bank Show from 1981 featuring Karel Reisz, John Fowles and Harold Pinter
Original film trailer
The supplemental features are outstanding.  The recent interview with Streep and Irons allows both to provide fascinating insights into their approach to their characters.  Composer Carl Davis offers an interesting analysis of how he wrote the music to evoke various themes and moods throughout the film.  Film scholar Ian Christie argues convincingly that it is time for a positive reassessment of the importance of the movie in the context of post-modernism.  And the South Bank episode includes a rare interview with Fowles in which he discusses his inspiration for the book and why he felt challenged to take on Victorian novelists from a modern perspective.
All in all, a wonderful addition to the film library of anyone who loves John Fowles and/or great cinema.  Here's a link to the official website for the new release: